Detailed WordPress Tutorial On How To Create A Website Using WordPress . Great information For Beginners too.
The Ultimate Guide to Creating a Website With WordPress
You are about to gain a tremendous advantage over most WordPress users when it comes to creating a website online.
Get it on your mobile device or tablet NOW with the QR code to the right –
Or on your PC NOW …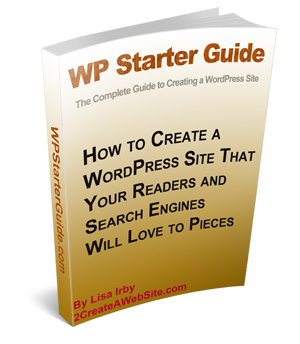 WordPress was originally designed for news-oriented sites, but because of its ease of use and flexibility, everyone is now using it to create all kinds of websites not just blogs.  WP is pretty much now the go to place for any and all websites including full fledge shopping site.  This WordPress Tutorial can assist you in any size website you choose to build using WP.
The problem is, most WordPress sites aren't really "news sites", but the average user doesn't know how to effectively use the WordPress Menu function and static pages to create a website with a logical navigation and optimal content layout.
FACT: Not every WordPress site should be organized in a total blog format with only categories and posts. WordPress is not just for blogs.
FACT: Too many users fail to make effective use of static landing pages, causing their important content and visitors to get lost in a sea of dated posts.
FACT: Traditional static website owners shy away from using WordPress because they assume their content can only be organized in reverse chronological order.
FACT: Existing WordPress users struggle to make their menus link to the pages they want.
The WP Starter Guide is not only the perfect starter guide for anyone new to WordPress, but it will show you how to make the best use of the dynamic and static functionality so your content is organized in the most logical way for your visitors.  In fact i rearly build sites myself that are blogs like this you are on now, most are business related and you would never know it was on WordPress if not told at the end of the page, which some do not hint.
If you are intimidated by WordPress, this WordPress Tutorial will make learning a breeze!   Even for me I find new tricks and tips in guides like these I was not aware of.  There is so much WordPress can do even some days I find it still overwelming and heading for a guide or Google search on how to do something new.
– 125 pages (PDF) of up-to-date information on how to use WordPress to create a website. Great for beginners. (Instant download — requires Adobe Acrobat Reader to view)
– Tips on topic/keyword research, SEO (search engine optimization), promotion, plugins, making money, writing content, layout, security and customizing common elements of your blog(header, stylesheet, etc.)
– An entire chapter dedicated to layout that will help you make your WordPress site easier to navigate using static pages and potentially improve your site's search engine optimization
– Instructions for adding/floating social media icons in your header
– Discover how to easily add AdSense ads to your sidebar
– Lots of colorful screenshots for illustration and easy reading
– Help with using the WordPress Menu feature to create drop-down navigation menus in seconds
– Inside tips on what I've done with my newest WordPress site to improve the page views per visitor
– FREE lifetime upgrades! WordPress is always being updated, so I will keep the guide up-to-date to reflect major releases and send (email) you a copy.
– People who want to learn how to use WordPress (for hosted sites, not the free WordPress.com version)
– Existing WordPress users struggling with layout, site navigation, and WordPress basics
Why WordPress?
First off main reason is WordPress is easy to use and flexible enough for just about anything. That's the biggest reason why WordPress has grown so much in popularity. According to a recent survey, WordPress powers 22.5% of all websites on the internet. Can you imagine just how many domains that is?
Due to it's robust features, many of the top brands use WordPress to power their websites including but not limited to: Time Magazine, Google, Facebook, Sony, Disney, LinkedIn, The New York Times, CNN, eBay, and more. So if going to ask, " why WordPress" better question is why not YOU too? This tutorialwill also speed up the process and make sure your domain is all you want and need as well.
Next due to the nature of open source, WordPress is a community software. It is maintained by a large group of volunteers majority of whom are WordPress consultants with active interest in growing and maintaining WordPress. Anyone can contribute to WordPress by writing patches, answering support questions, writing plugins, creating themes, translating WordPress and updating documentation. So you will never be alone or have to deal with some huge company after the big bucks. By using WP you too become part of the community and after a bit if you so choose can even give back in your own WordPress Tutorial maybe or other little ways to share your new knowledge.
Lastly, well there are many many more but last one I will share here is WordPress is Extendable by Using Themes and Plugins, so skys the limit on what you can build and it is forever growing each new day as the world turns. So really only limits are your own emagination and time you wish to put into your site.
Get YOUR Copy of the
Note: WordPress is a trademark of WordPress Foundation. 1m70.com is not affiliated with or endorsed by the WordPress Project or its trademark owners.